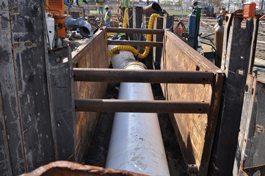 SELA Project on Leonidas Street

After the May 1995 flood, the U.S. Congress authorized SELA to reduce flood damage in Orleans, Jefferson and St. Tammany parishes. The Army Corps of Engineers administers the project. The Sewerage & Water Board acts as the corps' local partner.

SELA consists of 20 projects in New Orleans, including:
Two new drainage pumping stations, one in Carrollton and a second along the Industrial Canal.
Improving two existing drainage stations, DPS #1 in Broadmoor and DPS #13 on the West Bank.
Installing or improving several miles of underground drainage canals.